---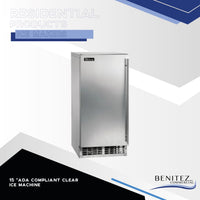 The distinctive top hat shape of each ice cube from Perlick's 15" ADA Clear Ice Maker is more than an attractive look. It's a part of Perlick's commitment to performance, even for ice cubes.
NSF certified ice making technology ensures each cube is free of impurities, emphasizing the drink's flavor. The unique top hat shape of the ice cube creates a flawless look and taste and prevents the ice from clumping, making a drink that's easy to prepare and pleasing to the eye
Impurity free ice melts slower allowing you to enjoy your drink without it quickly getting watered down
Produces up to 51lbs. of ice per 24-hours with storage capacity of 22 lbs.