---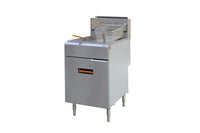 The Sierra all-purpose fryers feature outstanding reliability and durability, capable of cooking a wide variety of fried foods with consistent uniformity and great taste.
Five, highly efficient tube red, cast iron burners create a large heat-transfer area for reliable, even heat distribution. Our durable temperature probe senses temperature changes and activates a quick burner response. The temperature for the SRF-SC-75/80 ranges from 180°F (82°C) to 375°F (190°C). Includes safety control system.
Every inch of the fry tank and cold zone can be cleaned and wiped down by hand. The large cold zone and forward sloping bottom help collect and remove sediment from the fry tank to safeguard oil quality and support routine fry tank cleaning.
6" swivel casters are optional. Part #: 119-0021 ( Set of 4, 2 locking and 2 non-locking).