---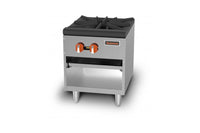 STOCK POT RANGE
• Stock Pot Range: (1) 3-Ring Burner and (2) 3-Ring Burners.
• Stainless steel panel and sides.
• 18" x 21" cast iron top grates designed for easy movement of
pots across top sections.
• Deflectors to direct waste to crumb/drip pan.
• Large front panel, promoting safety and great functionality.
• Orange paint injected aluminum knobs providing for better
toughness and durability.
• Lower cabinet storage cavity.
• Easily removable stainless steel crumb/drip pan.
• Heavy duty legs with adjustable feet.
• Units are shipped ready for Natural Gas(NG). A Propane Gas(LP) conversion kit and NG/LP regulator is supplied with the unit.
THREE RING BURNER
• 90,000 BTU total output per burner.
• Heat selection from simmer to high heat.
• Burner utilizes two adjustable gas valves for the inner and outer rings.